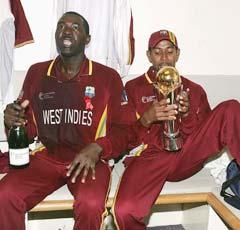 As the teams arrive in India for the ICC Champions Trophy, there is the view t
hat this tournament is actually quite important.
A few months ago the Trophy was an unwanted nuisance for England in their preparation for the Ashes. Now it's a serious pointer towards the World Cup side when Fletcher's men will fall at the Super Eight stages.
The last Champions Trophy in England was clearly a nuisance for its party-pooper organisers as well; just like the '99 World Cup when the ECB made chilly May its start date and Tony Blair set off
damp squib fireworks
.
Scheduled in September two years ago, few spectators made light of the cold weather,
USA were playing
and the highlight in the early stages was a
frenetic pitch invasion by Aussie and Kiwi supporters
trying to get to the middle without being caught.
And then there was the final
. As run by run was chased down by the Windies, an England result was never in doubt until Browne and Bradshaw held off in the dark. If anything, the result and following scenes gave back to the West Indies supporters memories of when the Oval was packed with the Caribbean community and, more often than not, victory for their team.
Can the Windies retain the trophy?