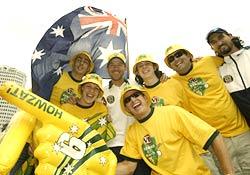 Gentle introductions to tours are a thing of the past. Such is the ICC programme these days, England have been up against the likes of New South Wales before the first Test in Brisbane and several likely members of the Australian squad.
So, early psychological battles have started for the players and, according to
Line and Length
, witty exchanges have begun in the stands too.
With the ever-growing support for England in these warm-up games, the Fanatics have released their player songs for both squads.
Download Six, Jugs and Rock 'n Roll here
.
Keeping on the music theme, it looks as if Indian 'keeper Mahendra (Singh, ahem) Dhoni is keeping up his record for off-field appearances with a venture
into Bollywood
.
Dhoni, India's latest pin-up boy, is set to showcase his acting and dancing skills in singer Rani's music video "Dil Ko Churaya Re"; no doubt his flexibility and athleticism through wicket-keeping will hold him in good stead amongst the Bollywood elite.