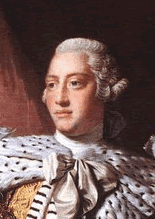 A new
cricket blog
entered the fray this week. Co-written by a former colleague from the colony, today's entry has a right royal feel to it.
Sportnation's
Royalometer
post runs the rule over the England squad in its attempt to suggest whether the urn holders have "enough blue blood ... through their veins to reclaim a former glory."
The first to get the treatment is Marcus Trescothick, England's now-departed opener. Now we all wish Tresco well in his recovery but, given the mantle of King George III by Sportnation, there is a certain irony to his regal appointment given the (mad), depressive
tendencies
of Britain's former monarch.
His father, Frederick, Prince of Wales, actually has the ignominious statistic of being involved in one of the first cases of cricket injuries, dating as far back as 1751. Frederick was struck by a cricket ball to the head, which not only fatally injured him but is also thought to have brought about his death.
More positive posts tomorrow, but is this because I feel Tresco's international career is coming to a halt?